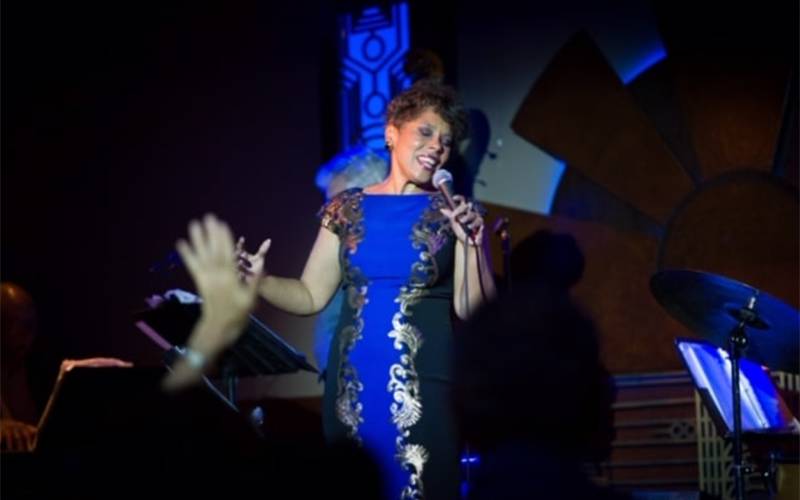 The Versatile Jazz Singer Amber Weekes Creates An Inventive, Heartfelt And Surprising Christmas Album. In A Diverse Program Filled With Swingers, Ballads, And Soulful Departures, The Singer Is Joined By Top Los Angeles Musicians Including Paul Jackson Jr, Guitarist,...
Adam Smale
Adia Ledbetter
Adrian Cunningham
Al Thompson Jr.
Alexa Weber Morales
Alexis Cole
Alison Ruble
Amber Weekes
Amikaeyla & Trelawny Rose
Andrew Distel
Angel Melendez
Angela Hagenbach
Ann Reynolds
Anne Phillips
Art Reyes
Avram Fefer
Baecker Jazz Worship Service
Barbara Levy Daniels
Barbara Sfraga
Barbara Ween
Big Picture Holiday
Bill Cole
Bill Cole & Joseph Daley
Billy Bang & Bill Cole
Billy Jones
Black Olive Jazz
Blanche Blacke
Bob Arthurs / Steve Lamattina
Bob Ferrel
Bob Wolfman
Brent Laidler
Brian Groder
Brian "Mr Ho" O'neill
The Brooklyn Repertory Ensemble
Buselli-Wallarab Jazz Orchestra
Carol Fredette
Carol Heffler
Carol Mennie
Catherine Dupuis
Cathi Walkup
Charlie Apicella & Iron City
Chris Greene
Chris Rogers
Christian Finger
Christopher Hollyday
Clarkwise Featuring Chris Murrell
Clotilde Rullaud
Cynthia Felton
Damian Rivero
Daniela Schächter
Dave Flippo
Dave Liebman Group
Dave Pietro
Dave Stryker
David Leonhardt
Dawan Muhammad
Diane Hoffman
Django Festival Allstars
Dom Minasi
Don Paul
Doug Munro
Edward Simon
Either/Orchestra
E.J. Decker
El Eco
Eliane Amherd
Elli Fordyce
Eugenie Jones
Event Horizon Jazz Quartet
Frank Catalano
Frank Jackson
Frank Russell
Frankye Kelly
Fred Fried
Gabriel Espinosa
Gabriele Tranchina
Gelber & Manning
George Bernard Dudley Kenyatta
George Cotsirilos
George Gee Big Band
Glauco Sagebin
Grazyna Auguscik
Greg Duncan
Gretje Angell
George Freeman & Chico Freeman
Gregory Hickman-Williams
Hannah Burge
Harvie S
Holly Yarbrough
Howard Johnson And Gravity
In Extremis
Ismael East Carlo
Jack Mouse
Jacob Melchior
James Leary
Jane Stuart
Janice Borla Group
Jared Gold
Jason Kao Hwang
Jason Paul Curtis
Jayne Cortez
Jazz Links Ensemble
JC and The Jazz Hoppers
Jeff Denson
Jeff Greene/Human Motion
Jeff Marx
Jen Siukola
Jerry Vivino Quartet
Jesse Gelber
Jim Buennig
Joan Crowe
Joan Stiles
Joan Watson-Jones
John Mclean
John Vanore & Abstract Truth
John Lamkin II
Jon Hemmersam/Dom Minasi
Jorge Garcia
Joseph Daley
Joshua Davis Group
Josie Falbo
Judy Philbin
Judi Silvano
Julian Yeo
Kat Parra
Kate Ross
Katie Bull
Keith Marks
Kelly Friesen
Kent Miller
Kerry Linder
Kevin Cline
Kim Nazarian
Kristina
Larry Gelb
Larry Newcomb
Laura Ainsworth
Laura Walls
Lauren Hooker
Lepercolateur
Leonisa Ardizzone
Liberation Music Collective
Lisa Sokolov
Liz Childs
Liz Mccomb
Local Lingo
Lolo Irving
Lou Caimano / Eric Olsen
Lucy Smith ~ Autumn In Augusta
Luke Gillespie
Madeleine & Salomon
Marc Courtney Johnson
Marc Pompe
Marco Figueira
Marcus Goldhaber
Mark Moultrup Group
Marko Djordjevic And Sveti
Mary Anne Anderson
Matt Ulery
Mcclenty Hunter Jr.
Meryl Romer
Michael Spiro/Wayne Wallace
Michelle Pollace
Michelle Samuels
Miguel De León
Mike Bardash
Mike Ellis
Mike Ferro
Mike Freeman
Mitch Shiner
Molly Holm
Nancy Kelly
Natalie Cressman
Nnenna Freelon & John Brown Big Band
Novak & Haar
Opaluna
Paul Seaforth
Perry Beekman
Peter Macdonough
Peter Paulsen
Peter Zimmer Quartet
Phil Brown
Phil Hawkins
Phyllis Blanford
Rachel Caswell
Rg Royal Sound Orchestra
Rebecca Coupe Franks
Rhiannon
Richard Boulger
Richard Lanham
Ritmos Unidos
Rob Parton
Robert Irving III – Generations
The Rocco John Group
Roger Davidson Trio
Russ Kassoff
Russ Nolan
Saco Yasuma
Sally Stark
Salsa De La Bahia
Sarah Deleo
Sarah Elgeti Quintet
Sathima Bea Benjamin
Sharon Marie Cline
Shaynee Rainbolt
Sherie Julianne
Skip Wilkins
South Nine Ensemble
Speak In Tones
Spirit Fingers
Steve Colson
Steve Johns
Steve Ramsdell
Steve Slagle
Stout & Booth
Suenos Latin Jazz / Steven Hashimoto
Susie Meissner
Susie Thorne
Svetlana And The Delancey Five
Terceto Kali
The Tango Group
Tomas Janzon
Tom Bruner
Tom Graf
Tom Rizzo
Tom Wright
Typhanie Monique
Typhanie Monique & Neal Alger
Untempered Ensemble
Uptown Vocal Jazz Quartet
Virginia Schenck
Vivian Lee
Von Freeman
Vw Brothers
Wayne Wallace
Wendy Waller
Willy's Nyc Salsa Project
Yamit And The Vinyl Blvd
Zach Brock
Radio Promotions is my personal passion!

Kate Smith Promotions specializes in non-commercial community public, college, internet, and cable tv radio airplay... CD and Digital service; artist interviews, and chart ratings for all jazz and jazz-related CD projects. We have worked with diverse artists such as Von, George, & Chico Freeman, Christopher Hollyday, Wayne Wallace, Either/Orchestra, Nnenna Freelon, Kim Nazarian, Joseph Daley, Jason Kao Hwang, and Dave Stryker.