Bandleader Jean Fineberg has recorded on more than 50 albums, and her compositions have been performed at the Monterey Jazz Festival, San Jose Jazz Festival, Carnegie Hall, The Grammys and the Kennedy Center. The ensemble's musicians have performed and/or recorded with Melba Liston, David Bowie, Laura Nyro, Andrea Bocelli, Cornell Dupree, Mo'fone and The Montclair Women's Big Band.
Born April 1, 1946 in the Bronx and raised in nearby New Rochelle, Jean Fineberg knew she was a musician from early childhood. She began studying piano at 6 and violin at 9 before discovering the flute at 11. She also dabbled in drums and guitar as a teenager, then eventually began to study tenor saxophone, which became her main instrument. She took it and the flute with her to Pennsylvania State University, where she earned two bachelor's degrees and a master's in succession.
In 1972, Fineberg became a founding member of Isis, an all-female jazz-rock band based in Manhattan. While the band never achieved major commercial success, it won positive notices and opened doors for Fineberg on the New York music scene. Along with Isis's three albums, she played on dozens of recordings across the 1970s and '80s, including smash hits by David Bowie, Sister Sledge, and Chic as well as the Brecker Brothers horn section. She toured with Laura Nyro and jazz trombonist/bandleader Melba Liston and performed with Dizzy Gillespie and Clark Terry at Carnegie Hall. In the mid-'80s, Fineberg co-founded (with Ellen Seeling) the fusion band DEUCE, which became a staple of jazz festivals and recorded two albums of her original music.
Settling in the San Francisco Bay Area, Fineberg reestablished herself in the 1990s as a first-call West Coast musician before joining Seeling's newly established Montclair Women's Big Band in 1997. In the 25 years since, it has been her primary outlet, both in the reeds section and as the band's primary composer and arranger. The superlative musicianship she encountered in the band was the catalyst for Jean Fineberg & JAZZphoria, Fineberg's long-in-the-making debut as name-above-the-title bandleader.
Fineberg is on the faculty of the Jazzschool at the California Jazz Conservatory in Berkeley, where she directs annual Jazz & Blues Camps for women and girls ("my way of trying to pay it forward"). On the extramusical front, she has published her poetry in more than 20 journals; her new collection is A Mobius Path (Finishing Line Press).
ABOUT JAZZphoria
JAZZphoria is a contemporary octet led by tenor saxophonist/composer Jean Fineberg. The band's original repertoire ranges from swing to bebop, funk, R&B, blues, salsa and reggae. Comprised of veteran musicians, JAZZphoria features an impressive four-woman horn section and a solid grooving rhythm section.
JAZZphoria's arrangements recreate the powerful sound of a Jazz Orchestra. The ensemble's name refers to that peak moment when everything is in sync and all the musicians are "in the zone."
PRODUCTION MIXED/MASTERED
Recorded at 25th Street Studio, Oakland CA – March 2020 and June 2021
Engineered by Jeff Kolhede
Mixed at Skywalker Sound, Marin County, CA by (7x Grammy winning engineer) Leslie Ann Jones,
assisted by Dann Thompson
Mastered by Michael Romanowski
PROJECT MANAGER  Lisa Mitchell
ARTWORK CREDITS
Front Cover :  Photo, Jane Higgins
Artwork:  Nicole Roberts
AVAILABLE FOR PURCHASE
https://jazzphoria.bandcamp.com/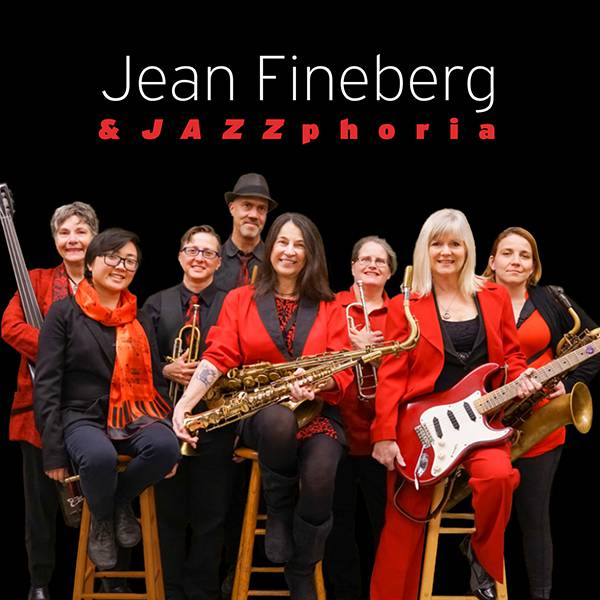 Going for Radio Adds
June 17, 2022
File: Swing, Latin, Blues