In 1988, Steve Million was a semifinalist in the internationally renowned Thelonious Monk Piano Competition; that same year, the Missouri native moved to Chicago and never looked back. The music of Monk continued to play an important role in his career. In the 90s he formed a two-keyboard band called Monk's Dream with Mike Kocour and Robert Shy; in the 2000s created the humor-filled band Thelonious Moog with Joe "Guido" Welsh; and is now part of a piano duo with esteemed pianist Jeremy Kahn called Double Monk that performs the music of Monk with their arrangements and sometimes with the modern dancer Ariane Dolan. Around 2004 Million began a rewarding career teaching privately at the respected Merit School of Music, where he is now Jazz Chair, runs classes in jazz piano, jazz ensembles, and improvisation. In addition to playing his regular nightly gig at the popular downtown restaurant Catch 35. Million has recorded three CDs for Palmetto Records: Million to One (1995), Thanks A Million (1997), and Truth Is (1999) featuring such artists as trumpet great Randy Brecker, saxists Chris Potter and Dick Oatts, and legendary bassist Michael Moore. He has also released a trio album, Poetic Necessities (BluJazz, 2002), and a solo album, Remembering The Way Home (Origin, 2008).
——
About the band originally named Four Friends – When Steve Cardenas first played with the original Three Friends band (me, Arnold Young on drums, Jeff Rendlen on bass) in the late 70's in Kansas City, Mo. it was a rent party for an artist's loft. We decided not to play any tunes and totally improvised everything that night. It was magical. That was when the new Four Friends band was born. It was also the first time Steve and I ever played music together. We still talk about that night.
I was out on the scene before this playing with the original Four Friends band – Arnold Young on Drums, Jeff Rendlen on bass, and Gary Nelson on guitar which sometimes featured guest vocalist Raynola Smith. We played all over Kansas City and mostly performed my tunes. Steve Cardenas called me up sometime after our first gig at the rent party and wanted to form an all original band playing our tunes. The band was retooled to include Ron Vincent (newly arrived in KC) and Greg Whitfield (later Gerald Spaits) on bass, and was very influenced by the John Abercrombie Quartet at the time. We all contributed original tunes to this band. By this time I was working somewhat steadily with the great Stan Kessler at The Point in Kansas City as were Ron, Greg, and Steve so there was quite a creative hang happening. This new version of Four Friends got its own night at the Point and many other gigs around KC and mid Missouri in 80-81. The band was interrupted because Ron and I moved to NYC in 1981. That essentially ended this band's run, but it dwelled in our musical hearts for years. We always talked about getting this band back together and documenting what we did at the time.
Well, that time is now. We recorded this new record in November 2019 right before Thanksgiving in NYC with John Sims on bass. We made a decision to record my music for this offering. Some of these tunes like Old Earl, The Company, and Waltz for Mr Abercombie have not been performed since those early days. In fact, I had to recreate both Old Earl and The Company from old tapes as I didn't remember them and had no written music from that period for them. Other tunes like Open the Book, My Explanation, Missing Page, Situations, and Blue Lizard have made it onto other recordings I've released over the years. This new recording harkens back to the original concept we had for playing this music.
It was such a joy after all these years to reunite with Ron and Steve to play this music again. We've remained strong and fast friends over all these years and hope now to reunite to play this music live.
About the tunes –
Open the Book – Written in 1981 for my daughter Peige on her 1st birthday. The original title was Open the Book to Page One. I recorded this tune one other time on my solo piano release also on Origin entitled Remembering the Way Home.
Old Earl – I wrote this tune in the mid 70's and titled after a friend of mine who was a master refinisher. When I first met him I asked him his name and he replied, "Just call me Old Earl." It stuck with me.
What I Meant to Say – This is a new offering, but I felt that it fit the proceedings well. Well enough to become the title tune.
The Company – this song was written about a group of artists that I was part of in the mid 70's. We formed this group (calling ourselves "The Company ") to salvage and document the contents of an old church that we purchased in 1976 in Quincy, IL. This is a long story, but suffice it to say it was a life altering affair.
Situations – Originally titled Situations In and Out of Mind and written for Arnold Young – one of the most creative musicians and artists on the planet.
My Explanation – One of my oldest tunes. I remember playing this once with Randy Brecker and he turned to me after I announced the tune and said, "and it better be a good one!" I recorded this on my Palmetto release Thanks a Million and on my solo piano record.
Waltz for Mr. Abercrombie – this tune was originally titled Waltz for Yadda, but I recorded a re-imagined version of this for my 2nd Palmetto release Thanks a Million. Aside from having some similar chord progressions here and there the two tunes have very little in common, so I re-titled this to reflect our love for the music of John Abercrombie.
Missing Page — This tune I wrote while in NYC and missing my daughter Peige a lot.
Azusa Dreams – a newer tune also recorded for my solo piano record. Written for my wife Azusa Nakazawa.
Blue Lizard – Another very old tune. We used to start off our sets often with this one. It's an odd ¾ time tune with a blues slant. I recorded this on my 1st release for Palmetto – Million To One.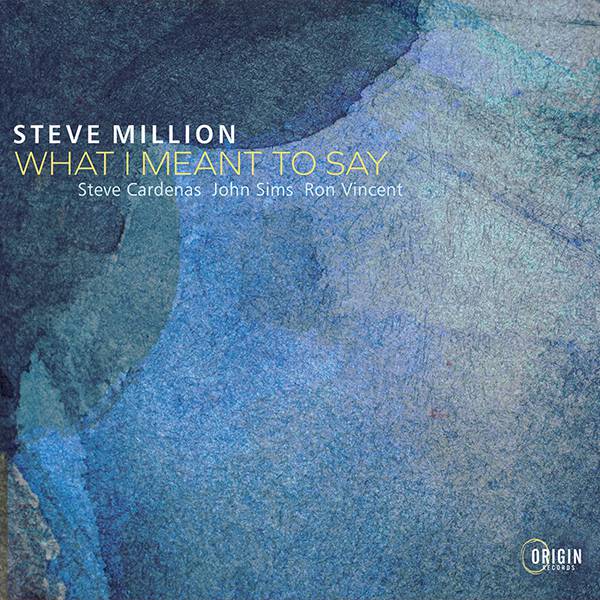 Going for Radio Adds
August 16, 2021
FILE: Jazz
Suggest Tracks: 1,3,6,10
Listen to: "Open the Book"