In her acclaimed cabaret show, My Ship: Songs from 1941, and on her debut ZOHO CD release, award-winning vocalist Dawn Derow delivers a perfect storm of entertainment. In this wonderfully crafted work, her voice is crystalline and confident, while her vocal control and phrasing evoke the emotional climate of America as it entered WWII.
In her debut Zoho Music release My Ship: Songs from 1941, vocalist Dawn Derow performs the music from her award-winning cabaret show of the same name. Her stunning renditions on this album are not only an homage to classic songs of the WWII period, but a tribute to the performers who kept hopes high until America achieved victory.
The CD features a 14-song collection of chart-topping music composed or sung by some of the most legendary and prolific performers of the era, including Duke Ellington, Irving Berlin, Kay Kyser, Tommy Dorsey, Johnny Mercer, Harold Arlen, Kurt Weill, Ira Gershwin, Frank Sinatra, Dinah Shore, Billie Holliday, and The Andrews Sisters.
Dawn Derow, her acclaimed Music Director Ian Herman, and her highly accomplished musicians put a respectful spin on iconic songs such as "Boogie Woogie Bugle Boy", "Lover Man (Oh, Where Can You Be?)", "Skylark", "Why Don't We Do This More Often?", "Let's Get Away from It All", "White Christmas", and the come-hither invitation of "Chattanooga Choo Choo."
As renowned jazz and cabaret writer James Gavin states in the CD's liner notes: "World War II is so far behind us that almost every living link to it is gone. But in her acclaimed cabaret show, My Ship: Songs from 1941, and in this album of its music, Dawn Derow—a smart, sexy, expressive, and vocally polished woman of today—evokes that year as vividly as if it were happening now. You'll be plunged into a time of massive upheaval and all its colliding emotions—the wistfulness, the loss, and the giddy escapism only that music could bring."
– – – – – – – – – – – – –
The Early Years
A New Yorker by way of Cape Cod, Massachusetts, Dawn grew up in Eastham, MA and began pursuing her performing career in her childhood. She graduated from the Boston Conservatory with a Bachelor's in Music: Vocal Performance & Opera Emphasis, achieving the second highest vocal score in her class. After graduation, Dawn performed in operas and musicals around the world, as well as a guest entertainer aboard international cruise ships, displaying an uncanny ability to transition from singing a Puccini aria to a jazzy torch song.
Cabaret Awards & Performances
In 2008, Dawn, having lived in New York City for several years, began to pursue a Cabaret career. Over the past 12 years, she has performed in prestigious venues, including the Weill Center at Carnegie Hall, Birdland Jazz Club, The Laurie Beechman Theater, Don't Tell Mama, The Friars Club, the Bitter End, The Cutting Room, Carroll Place, and most recently The Green Room 42.
Dawn used her songwriting and guitar abilities throughout her Cabaret performances, leading to high praise for her shows. Dawn soon after began reeling in the awards. Her CD Music 4 TWO with award-winning guitarist Sean Harkness earned her a 2014 nomination for "Best CD" from the Manhattan Association of Cabarets and Clubs (MAC).
In 2015, Dawn won her first MAC award for her work in the duo show REVOLUTION with Kathleen France. In 2016, Dawn employed her formidable opera singing skills in her solo show LEGIT: A Classical Cabaret. She received a Bistro Award for "Outstanding Vocalist" for her performance. Two years later, Dawn won the 2018 MAC Award for "Best Female Vocalist" for her critically acclaimed show, My Ship: Songs from 1941. Her director, Jeff Harner, also won "Best Director" from the Bistro and MAC awards. Dawn will be releasing an album of her songs from MY SHIP: Songs from 1941 in the summer of 2021.
Dawn's most recent show, The House That Built Me, played to packed audiences at the Laurie Beechman Theater. Based on her love for her father's vast record collection that Dawn grew up listening to, she weaves a story of how these songs inspired and helped her blossom into the multi-faceted performer she is today. The setlist includes classic pop hits and Broadway show tunes from legendary performers such as Judy Collins, Jacques Brel, Crosby Still Nash & Young, Rosemary Clooney, as well as contemporary artists P!nk and Miranda Lambert. The House That Built Me received rave reviews from the press, which you can read below.
In the Fall of 2019, Dawn sang in the Mabel Mercer Foundation's Cabaret Convention at Rose Hall at Lincoln Center. You can view Dawn's performance of "White Cliffs of Dover" on her YouTube Channel.
Dawn's next solo cabaret production, Gypsy In My Soul: The Songs of Eydie Gorme, was delayed due to COVID-19. Stay tuned for updated performance dates coming soon. Dawn will be releasing her album of songs from My Ship: Songs from 1941 in the summer of 2021.
Health and Fitness
When Dawn isn't performing, her main focus has been on her work in the area of health, fitness, and body healing. In 2013, Dawn launched her company Divine Body Balance. Her company helps clients using her expertise as a NASM-certified personal trainer, AFFA group fitness instructor, Yoga Alliance instructor, Thai Massage practitioner, mobility health coach, and as Rock Tape: Cupping, Kinesiology taping practitioner. Whether it's through song or body work, Dawn's mission is to connect with and heal the human mind, body, and soul.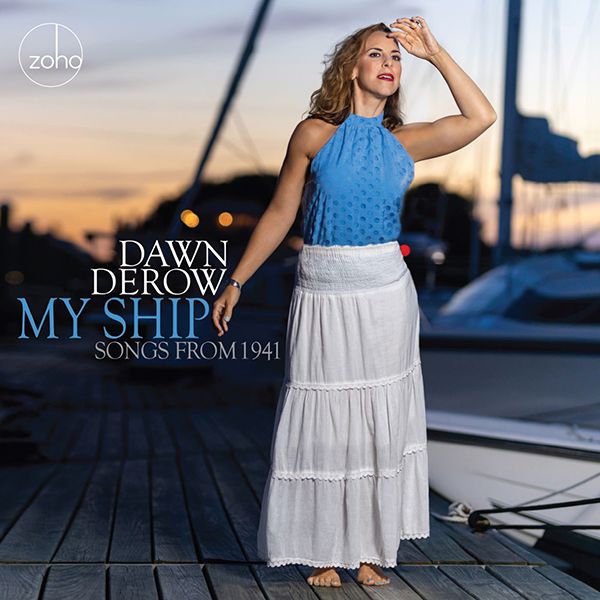 Going for Radio Adds
December 10, 2021
FILE: Jazz Vox