Michael Wetherwax grew up in Burbank, California. In his younger years he performed with his family band "The Reflectors" under the direction of his father, who was an accomplished musician, teaching in several different schools in Burbank. In Michael's teen years, he wrote for a Henry Mancini TV Special and the Tonight Show Band, while studying with Hugo Montenegro, Earle Hagan, Quincy Jones, and Fredrick Fennel. He was awarded High School Jazz Composer of the Year 2 years in a row and wrote and conducted at the Monterey Jazz Festival while performing on lead trumpet in the California All Star Band. There he was asked to join the Stan Kenton Neophonic Orchestra where he performed with legendary musicians, Joe Pass and Louie Bellson.
During his college years, he continued to compose and perform for different bands featuring his colleagues such as John and Jeff Clayton. Additionally, he played in Los Angeles with "Rural Still Life", which soon became the band Toto. At 19, after recording a demo album with them, he travelled to Japan to work as a writer and accompanist for NHK. He loved performing his accompanying skills that he mentored from the great Jimmy Rowles, who recorded with Sarah Vaughan and Carmen McRae.
When he returned from Japan, he played keyboards for Universal, Disney, and MGM for several shows such as Knight Rider, Airwolf, and Fame. Subsequently he arranged, recorded, and performed music for the MGM Grand theme park in Vegas, and the I Love Lucy, Blues Brothers, and Marilyn Monroe Shows at Universal Studios Hollywood, and started composing and arranging for movies from Roger Corman to Oliver Stone to the Hallmark Channel, and TV shows such as Lassie and Twilight Zone. This Big Band album, the first of different genres in a "Trax by WAX" series, documents his love for exciting and contemporary Big Band music that friends convinced him to record.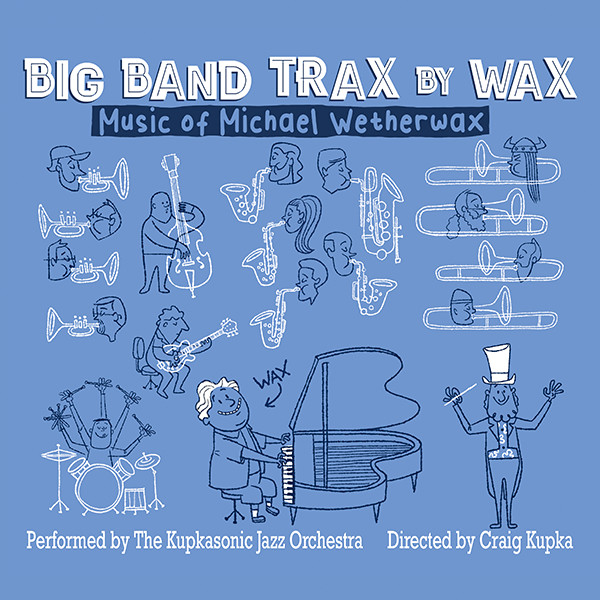 Going for Radio Adds
April  27, 2023
FILE: JAZZ
Suggested Tracks: 1,5,8
Latin: 4,6
Listen to: "Gina's Groove"