In celebration of guitar legend George Freeman's 95th birthday on April 10, 2022, Southport Records is pleased to announce the release of
"Everybody Say Yeah!",
a new compilation of recordings documenting 26 years of Freeman's music from our "Real Jazz Made in Chicago" catalog. Eleven of the fourteen songs are Freeman's originals including a new recording of
"Perfume."
The Chicago Tribune's Howard Reich describes the live premiere of the tune at The Green Mill, Chicago in 2019: "Freeman toned everything down with his ballad "Perfume," a testament to the poetry he's capable of. Beyond the lyric beauty of the song itself, Freeman caressed its motifs as only a very seasoned musician could, the feathery quality of his tone matched by the tenderness of his phrasing."
Freeman is joined on this recording with musical cohorts including harmonica maestro Billy Branch, bassists Tatsu Aoki, Eldee Young and Harrison Bankhead, nephew Chico Freeman and brother Von Freeman, percussionists Alejo Poveda and Ruben Alvarez, vocalist Joanie Pallatto and fellow guitarist Mike Allemana among many others.
An original himself, George Freeman IS jazz history. From a musical childhood that included visits to the family home by trumpeter Louis Armstrong and pianist Fats Waller, to growing up with his eldest brother Eldridge (known as Bruz) on drums and middle brother Von on the tenor saxophone, George was destined to forge his own unique sound on the guitar.
As a spirited side man, Freeman has performed and recorded with a long roster of jazz greats, from Gene Ammons and Richard "Groove" Holmes to Johnny Griffin, Ella Fitzgerald, Sarah Vaughan and Dinah Washington. He remembers a time when Charlie Parker wouldn't go onstage without him. His life in music has taken him around the world, but home and family in Chicago have always been where his heart is, and where as an elder statesman he continues to influence a new generation of Chicago's jazz legacy. A truly vibrant iconoclast, in his ninth decade George has continued to perform at club and festival gigs throughout Chicago.
The title of the CD reflects the call and response the ebullient George Freeman begins his shows with, where he calls out to the audience: "Everybody Say Yeah!". The audience shouts "Yeah!", responding again when George asks everybody to say "HELL Yeah! "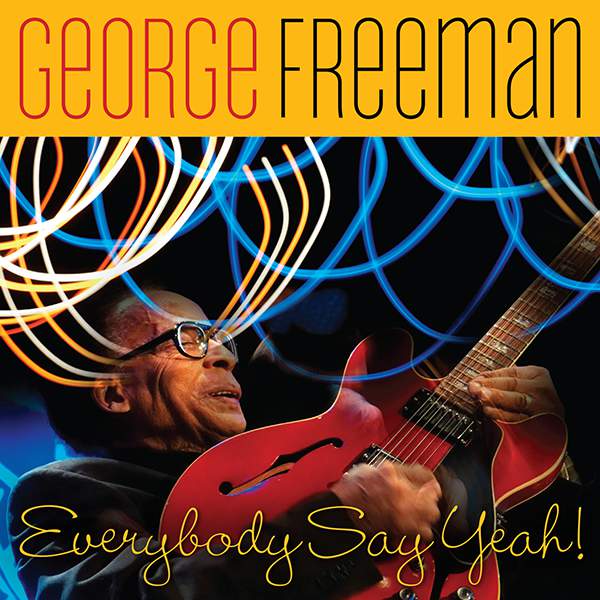 Going for Radio Adds
April 8, 2022
FILE: Jazz Guitar
Listen to: "George Burns!"