Classic Guitar is NYC based guitarist Charlie Apicella's seventh record, available on 180 gram audiophile vinyl and CD. It celebrates 1950s guitarists Johnny Smith, Freddie Green, and Barney Kessel, in solo guitar, duo, and trio settings. On his first record of standards, Charlie, inspired by his love of collecting jazz LPs, plays Delia, his 1963 Guild Artist Award guitar.
***
"Sound engineer Chris Sulit and I had fun with this one, he helped make it the guitar tribute I envisioned. I brought half a dozen 1950s guitar LPs and had Chris set up a turntable. We mixed and EQed different tunes on the record to match specific tunes on the different old LPs. Source material
Charlie Apicella was voted onto the 84th annual DownBeat Readers Poll for Guitar.
He has performed concerts and recorded with jazz legends Dave Holland, Sonny Fortune, and John Blake, Jr. as well as contemporary masters Joe Magnarelli, Vic Juris, Dave Stryker, Don Braden, and Jon Herington of Steely Dan.
Charlie began his music training by studying composition and improvisation with Yusef Lateef and music history with Archie Shepp, and in 2014 was invited by Pat Martino to study improvisation, composition, and Pat's unique method for learning the mechanics of the guitar.
LINER NOTES
Four: This is what swinging hard-bop is all about. I incorporated some ideas in my arrangement of the
head.
First, notice how the time signature changes to 3/4. My mentor and occasional Iron City bandmate, Sonny Fortune, would perform in a duo with drummer Rashid Ali. He loved talking about how they would always play the tune "Four" in three!
The tag I learned from the original recording of the tune which Miles Davis did in 1954. His records from this era with Horace Silver are my favorites.
Some Other Spring: I love Billie Holiday's 1950s Verve records featuring guitarists Barney Kessel and Kenny Burrell.
I can't think of better musician to help me interpret her work then Stephen Riley. This duo arrangement is based on the way I play the tune solo. It was great collaborating with Riley on this one and talking about our approach to the tune. This recording date was the first time we had seen each other in almost 5 years.
Beautiful Love: This is my nod to Vic Juris. His passing during the making of this record had an effect on me.
This tune is one of my favorite Bill Evans Trio recordings. He and Jim Hall made a couple of wonderful duo albums together.
Shiny Stockings: Everyone's favorite Count Basie tune. No matter what gig I play it on, solo or with the band, it kills.
Freddie Green's son, Alfred, recently mailed me a photo from his personal collection of his dad with Basie, circa 1941.
Tenderly: Here is another swinging staple of the Charlie Apicella Trio's live gigs.
Funky Mama: I recently came by several records on vinyl by the greatest blues pianist of all, Otis Spann. On some records he plays solo piano and sings, some are duo with guitarists Lonnie Johnson and Robert Lockwood Jr.
This Big John Patton tune is our set opener in Iron City and it's down-home feel works great as a solo guitar arrangement.
Eclipso: The first jazz record I owned was Kenny Burrell, John Coltrane, and Tommy Flanagan. The pianist wrote two tunes I have now recorded.
All The Way: My love of Frank Sinatra is how I became a fan of Tony Mattola. Last year his son, Tony Jr. shared with me a rare record from the early 1980s called All The Way. This solo arrangement is my tribute to his playing on that.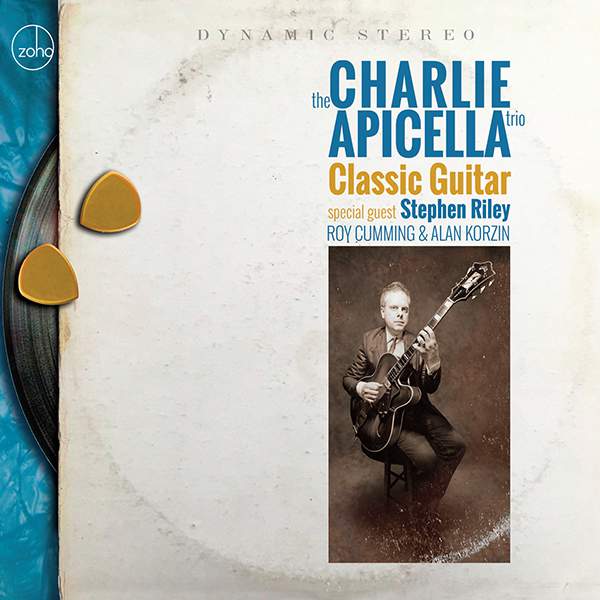 Going for Radio Adds
January 8, 2021
FILE: Jazz
Suggested Tracks: ALL