GAEA SCHELL, a multi-instrumentalist, composer, arranger, and vocalist, plays piano and flute on IN YOUR OWN SWEET WAY, and she also sings on a couple of tunes. The album consists of seven Latin-tinged original compositions, one straight-ahead original, and three fresh takes on songs from the Great American Songbook.
IN YOUR OWN SWEET WAY follows For All We Know (2004) and After the Rain (2011).
Jazzpolice.com says, "Schell pulls in the listener with a minimalist approach that shines with interpretative sensibility rather than pure musicality. But unlike other pianist/vocalists who are competent at the keyboard but clearly in their element in song (Diana Krall, Karrin Allyson), Gaea Schell is competent vocally and brilliant as composer/instrumentalist."
It has taken several years for Schell to get back into the studio for her own recording, but that is because she has been so busy backing the likes of Nancy King, John Stowell, Albert 'Tootie' Heath, Clare Fischer Big Band, Tony Dumas, Marcus Shelby, Bobby Watson, and Earl Palmer, among others.
Schell's piano playing is subtle and swinging, and her flute playing is influenced by traditional Cuban flutists, while her soft voice has been compared to a Brazilian white- sand beach at sunrise.
Inspired by nature and shaded with gentle Brazilian rhythms and classical hues, Gaea Schell's music is redolent with moonlight and romance.
With her steadfast grooves and elegant expressiveness, IN YOUR OWN SWEET WAY is a highly engaging album.
BIOGRAPHY
"It was really amazing to listen to her, and it would also have to be said in her favor that, in fact, she put herself above them in some way, because in addition to her virtuosity on piano and voice- like Diana and Eliane-, Gaea is also a flutist of an equally formidable virtuosity, which certainly results in an extraordinary balance. With a sweetness and discretion bordering on shyness, Gaea becomes a subtle vortex of musical energy when performing, sustained by the immanence of her talent and a sovereign and radiant technical perfection". -Ismael Carvallo, Periscope, Mexico City
"Subtle romanticism" with a "distinctive, swinging touch" are words used to describe Gaea Schell. Accomplished and versatile, she – as drummer Albert 'Tootie' Heath has said, "plays the heck out of the piano with them small hands".
Known among her peers for swinging eighth notes, subtle phrasing and contemplative writing, SF Bay area based pianist, composer, flutist (and vocalist) Gaea Schell is originally from Alberta, Canada, where she grew up playing music from an early age. Recorder lessons at age 6 with family friend, the late San Francisco based drummer Eddie Marshall, was one of her first musical ventures.
Pursuit of a classical harp degree led to checking out Oscar Peterson and Bill Evans records in the school library, inspiring a move East (after declining a Berklee scholarship) and subsequent graduation with distinction from the jazz program at acclaimed McGill University in Montreal. The real learning, however, came from playing on the bandstand with respected elders who spent considerable time themselves playing with greats such as Joe Henderson, Wynton Kelly, Ella Fitzgerald. Gaea feels "it's so important to listen, experience, and understand the tradition of this music".
An early career Canada Council for the Arts grant took Gaea to New York City where she studied with internationally known pianist/composer Richie Beirach. Other awards include grants through Chamber Music America, South Arts Jazz Road, Intermusic SF, the Giacomo Puccini Opera scholarship from Accademia Europea di Firenze, and the Composer's Fellowship Award at Vermont College of Fine Arts.
Gaea (maiden name 'Brant') is a cousin of late classical composer Henry Brant (favorite composer Benny Golson a protege)
Gaea made her California debut as a twice featured performer at the San Jose Jazz Festival and has been performing professionally and internationally in diverse contexts. More recently, she has been found playing flute with Cuban son groups. Her experience includes everything from teaching elementary school flute choirs, trio to quartet to orchestral performance. Notable artists she has shared the stage with include Nancy King, John Stowell, Albert 'Tootie' Heath, Clare Fischer Big Band, PJ Perry, Marcus Shelby, Kellye Gray, Bobby Watson, Dan Faehnle (former guitarist with Diana Krall), Vibrason, Vince Lateano, Richie Cole, John Wiitala, and Gilbert Castellanos.
Steadfast groove and elegance of expression – trademarks of Gaea Schell's music – guarantee her ability to engage listeners.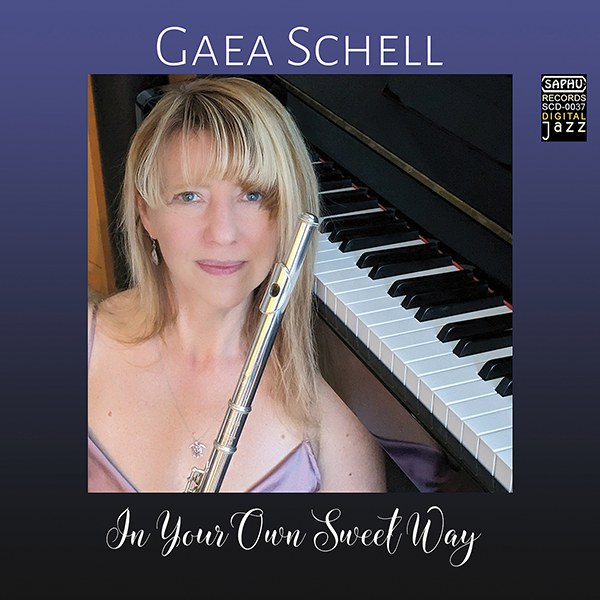 Going for Radio Adds
July 28, 2023
FILE: Jazz/Latin/Vox
Suggested Tracks:
Jazz: 3,6
Latin: 4,8