GUITARIST JORGE GARCIA CELEBRATES ESTEEMED COLLABORATORS ON NEW ALBUM, DEDICATED TO YOU
Includes two previously unissued tracks with Richie Cole, Coming February 22, 2022
Although his name is not known to jazz fans nationwide, Cuban-born guitarist Jorge Garcia has worked with many esteemed musicians, including Tony Bennett, Cécile McLorin Salvant, Chuck Redd, Jon Faddis, and Ignacio Berroa. Garcia's new self-released album, DEDICATED TO YOU, celebrates his collaborations with two other jazz icons, Richie Cole and Hendrik Meurkens, along with some of his favorite local musicians from South Florida.
Garcia's association with the late alto saxophonist Richie Cole dates back to the late 1990s, when Cole was living in Key Largo, FL, and in the process of forming a new edition of his Alto Madness Orchestra. Garcia was not only a member of the band, he remembers performing with bassist Rick Doll and drummer James Cotmon on Cole's big band gigs.
Richie Cole played clubs and concerts in the Miami area on several occasions, and whenever he was asked to assemble a band, Garcia would be Cole's first-call guitarist. In 2009, Cole was back in Southern Florida, and Garcia offered to pay for the studio rental if Cole would be willing to record. Cole readily agreed, and the band's rhythm section of Garcia, Doll and Cotmon were reunited for the date.
When asked what he wanted to record, Cole responded with Gigi Gryce's "Minority," the song which now serves as the opening track. Taken at a brisk tempo, Cole's spirited performance will remind listeners of his white-hot, lightning-fast solos from the 1980s. After Cole's sizzling improvisation, Doll and Garcia maintain the momentum with well-executed and spirited solos, all fueled by Cotman's snappy drums. Garcia's "This One's for Richie" showcases the alto man in a melodic mood over a swinging medium tempo. Garcia's guitar solo on this track is quite reminiscent of the great Candian guitarist Ed Bickert, although Garcia creates Bickert's unique sound on a hollow-bodied guitar, rather than Bickert's solid body Fender Stratocaster.
Cole, Garcia, Doll, and Cotmon recorded further titles on this session, but Garcia feels that these two unissued tracks were the best takes from the date. The warm Brazilian original "With You Always" is another work from Garcia's pen, and the track is notable for the fine chemistry between Meurkens, Garcia, bassist Jamie Ousley and Cotmon.
Miami vocalist Wendy Pedersen is another of Garcia's favorite collaborators. When fashioning the arrangement on Harold Arlen's immortal "Over the Rainbow," Garcia created a separate line for Pedersen to sing with guitar accompaniment. Once the basic tracks were recorded, Pedersen went back into the studio without Garcia's knowledge, where she recorded the stunning 4-part harmonized passage heard on this side. Garcia was taken aback by Pederson's action, but agreed that her contribution had enriched the arrangement. Apparently, the urge to overdub extended to Garcia, who added a second track on acoustic guitar.
Continuing with his South Florida compadres, Garcia next launches into a tasty setting of Cy Coleman's "You Fascinate Me So" featuring Paul Banman on piano, Ousley again on bass, and John Yarling on drums. Garcia plays a glorious solo which takes full advantage of the song's rich harmonic sequence. Ousley follows with a deep-toned and highly melodic bass solo, accompanied by beautifully revoiced chords by Banman.
Bringing the album to a close are a swift version of George Gershwin's "S'Wonderful" featuring a finger- busting Garcia solo over the burning rhythm of Ousley and Cotmon, followed by the title track written by Garcia, and featuring his shimmering guitar melody over the synthesized string background played by Banman.
While the tracks on DEDICATED TO YOU seem retrospective in nature, Garcia continues to perform regularly, and we should expect to hear more fine music from Jorge Garcia and his very talented friends.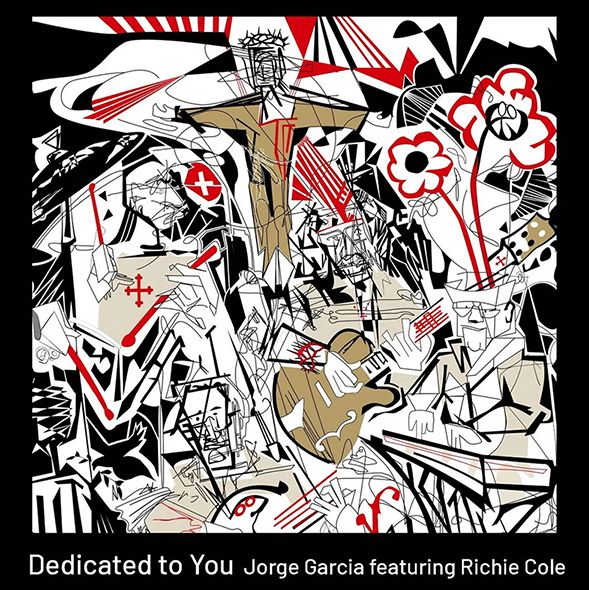 Going for Radio Adds
February 25, 2022
FILE: Jazz